The Chinese University of Hong Kong - 05 October 2016
(1) CUHK Launches New Collaboration Plan on MOOC with Shanghai Jiao Tong University
The Chinese University of Hong Kong (CUHK) concluded a new collaboration agreement with Shanghai Jiao Tong University (SJTU) to join Chinese Massive Open Online Courses (CNMOOCs) and offer online courses via the platform. Prof. Isabella POON, Pro-Vice-Chancellor of CUHK signed the agreement on behalf of the University at a ceremony on 22 Septmeber. A meeting was held between the respresentatives on both sides to discuss the collaboration details after the signing ceremony.
CNMOOC is the Chinese MOOCs platform that is developed by SJTU. Since its launch online in April 2014, SJTU and other top Chinese universities have opened more than 300 high quality MOOCs on it. Students from about 400 Chinese universities, amounting to 300,000 person-time, have learned in these courses.
Prof. JIANG Zhibin, Dean of MOOCs Research School of SJTU and Prof. YU Jianbo, Assistant Director of MOOCs Promotion Office joined the meeting on behalf of SJTU. CUHK members joining the discussion included Prof. Irwin KING, Associate Dean of Engineering, Prof. Steven NGAI, Department Chairman of Social Work; Prof. Jimmy LEE, Department of Computer Science and Engineering; Prof. JIANG Liwen, School of Life Sciences; Prof. LEUNG Mei-yee, Director of University General Education; and representatives of Office of Academic Links (China), Information Technology Services Centre (ITSC) and Knowledge & Education Exchange Platform (KEEP).
SJTU has been a close partner of CUHK since the establishment of partnership in 1990. Collaboration projects range from academic exchange, research collaboration to student activities and joint programmes. A Partnership Steering Committee was set up by the two universities last year to oversee and monitor the collaboration with comprehensive planning and direction. Prof. Isabella POON led a delegation to SJTU in April and July this year to discuss new collaboration plans.
CUHK and SJTU representatives pose for a group photo after the meeting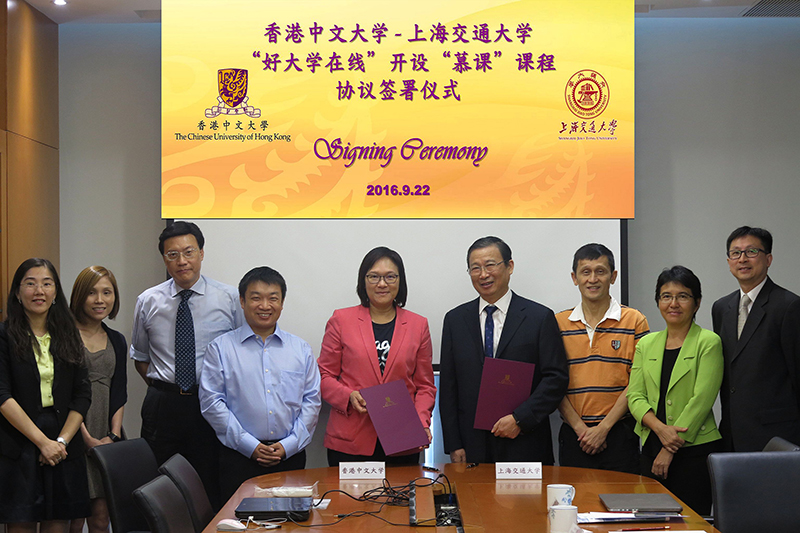 Prof. Isabella Poon (left), Pro-Vice-Chancellor of CUHK, signs a collaboration agreement with Prof. Jiang Zhibin, Dean of MOOCs (Massive Open Online Courses) Research School of SJTU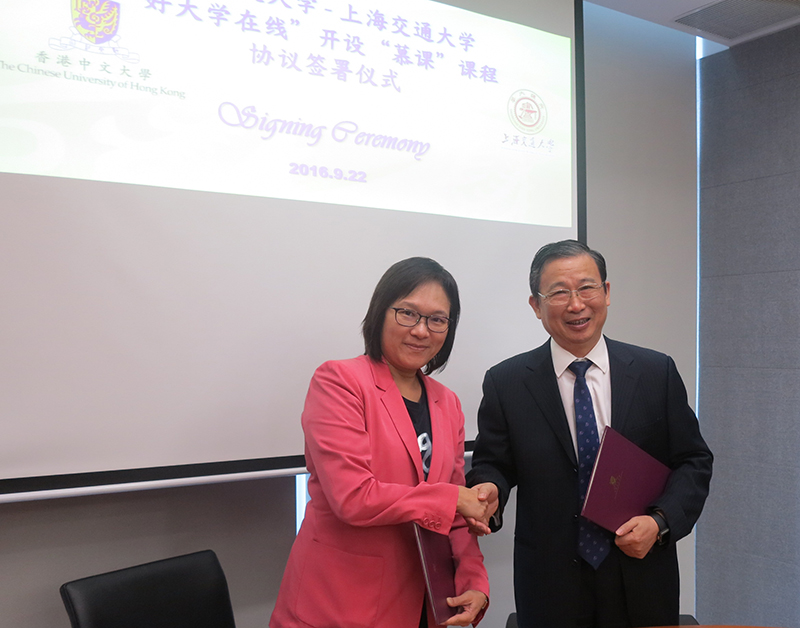 -----------------------------------------------------------------
(2) CUHK Joins Hands with ( on General Education)
A collaboration agreement was signed between the Chinese University of Hong Kong (CUHK) and Fudan University to strengthen efforts on general education. Prof. XU Lei, Registrar of Fudan University, led a four-member delegation to visit CUHK on 22 September. The delegates met with Prof. Isabella POON, Pro-Vice-Chancellor of CUHK; Prof. LEUNG Mei-yee, Director of University General Education; Prof. WONG Wing-hung, Associate Director; Dr. Julie CHIU, Deputy Programme Director; and Ms. Wing WONG, Director of Academic Links (China).
During the meeting, a collaboration agreement on general education was concluded to enhance relevant teaching, research and interflow activities. Apart from exchange of faculty members to provide support and guidance on the implementation of general education curriculum, there will be relevant activities in building of course platforms and sharing of teaching reforms and experiences.
CUHK has been putting tremendous efforts into promoting and implementing general education, which aims to equip our students with the intellectual capacity for understanding critical issues, ideas, and values of humanity in modern society, making informed judgment and taking up the challenges of this ever-changing world. The University joined the Alliance of University General Education in June this year as the only member from Hong Kong.


Prof. Isabella Poon (middle), Pro-Vice-Chancellor of CUHK, signs a collaboration agreement with the Centre for University General Education of Fudan University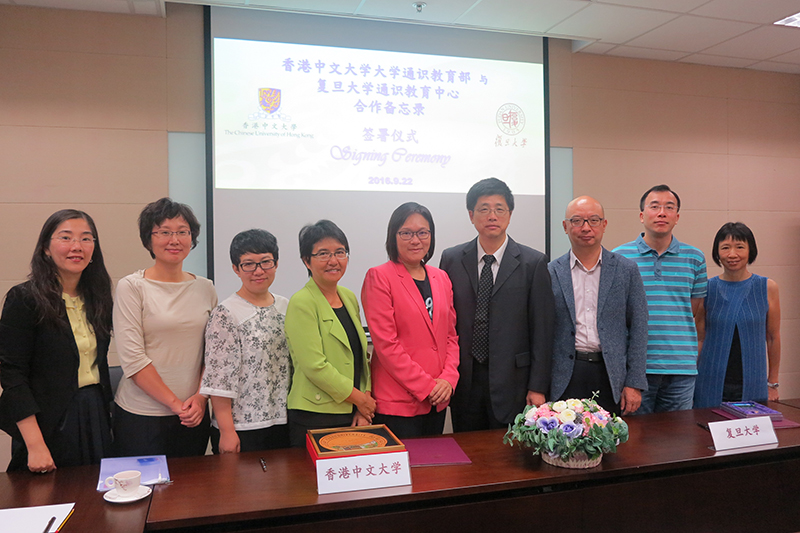 Delegates from Fudan University visit the Centre for eLearning Innovation and Technology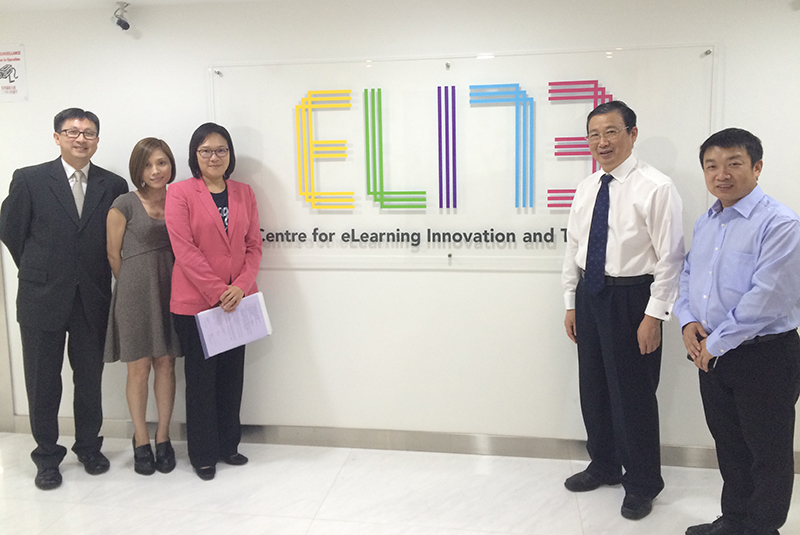 Source of information:
http://cloud.itsc.cuhk.edu.hk/enewsasp/app/article-details.aspx/7C287854BE1565ADDD7637C147ED1FBC/